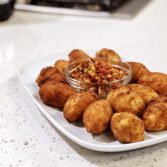 Spanish Ham Croquettes with Green Olive Tapenade
I love food because it can transport you to any place in the world. These tasty favorites from  Spain are made from a thickened béchamel sauce that's cooled, shaped and fried. Enjoy this dish with family and friends!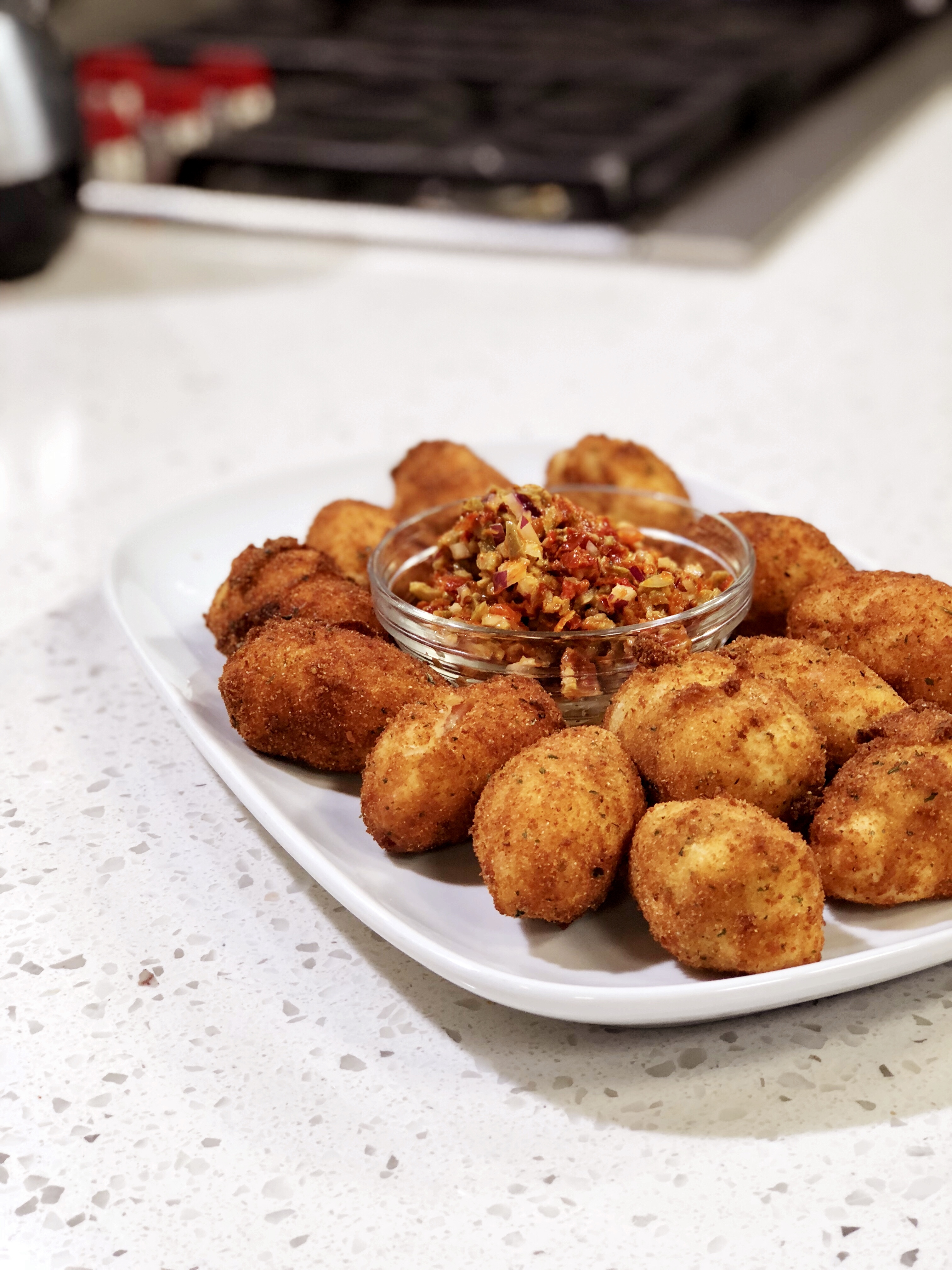 Ingredients
For the Croquettes: 2 tbsp butter
2 tbsp olive oil
1/2 cup flour
2 cups milk
1/2 tsp nutmeg
1 cup finely minced ham
2 eggs, whisked
2 cups Italian bread crumbs
Vegetable Oil for Frying
Salt and pepper to taste
For the Green Olive Tapenade: 1 cup sun dried tomatoes (in olive oil)
1/3 cup sun dried tomato oil
1/2 cup pimento stuffed green olive
1/2 cup chopped onion
1 tbsp whole grain dijon mustard
Instructions
1
To make the croquettes: Melt the butter and olive oil together in a sauce pan and add the flour. Using a whisk whisk the flour and butter together until combine.
2
Add 1 cup of milk and whisk the roux and milk together. Add the second cup of milk and nutmeg. Whisk together to combine.
3
Bring the milk mixture to a boil while whisking. The mixture will thicken up and resemble "wallpaper paste". Remove from the heat and continue whisking until smooth.
4
Stir in the minced ham and spread the mixture into a 9x13 pan. Cover the mixture with plastic wrap and refrigerate for at least 4 hours or until firmly set.
5
Once set, shape about 2 tbsps of the mixture into a small log. I shape them about the size of my thumb. Use some flour on your hands to keep the dough from sticking to your hands.
6
Continue shaping the all of the croquettes and place them on a sheet of parchment paper.
7
Whisk the eggs in a medium bowl and add the bread crumbs to another medium bowl.
8
Dip the shaped croquettes into the egg and than dredge in the bread crumbs continue this process until all of them are coated with bread crumbs.
9
Heat about 3 inches of vegetable oil in a pan and fry each croquette until they are golden brown.
10
Remove from oil and place on a plate lined with paper towels to absorb any excess oil.
11
To make the Green Olive Tapenade: Place all of the tapenade ingredients into the bowl of your food processor. Pulse a few times until the mixture pulls together and is coarsely chopped. Salt and pepper to taste (if needed) and serve on the side with your croquettes and Enjoy!
chefbryan