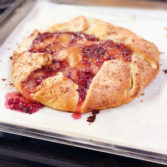 Rustic Pomegranate Apple Pie
Pies are easy and delicious! No fancy equipment is needed and this pie is actually made on a baking sheet with the crust folded over and on top of itself. Adding pomegranates brighten the color of this pie and gives it a perfect festive look. Serve this rustic pomegranate apple pie with a scoop of vanilla bean ice cream and enjoy!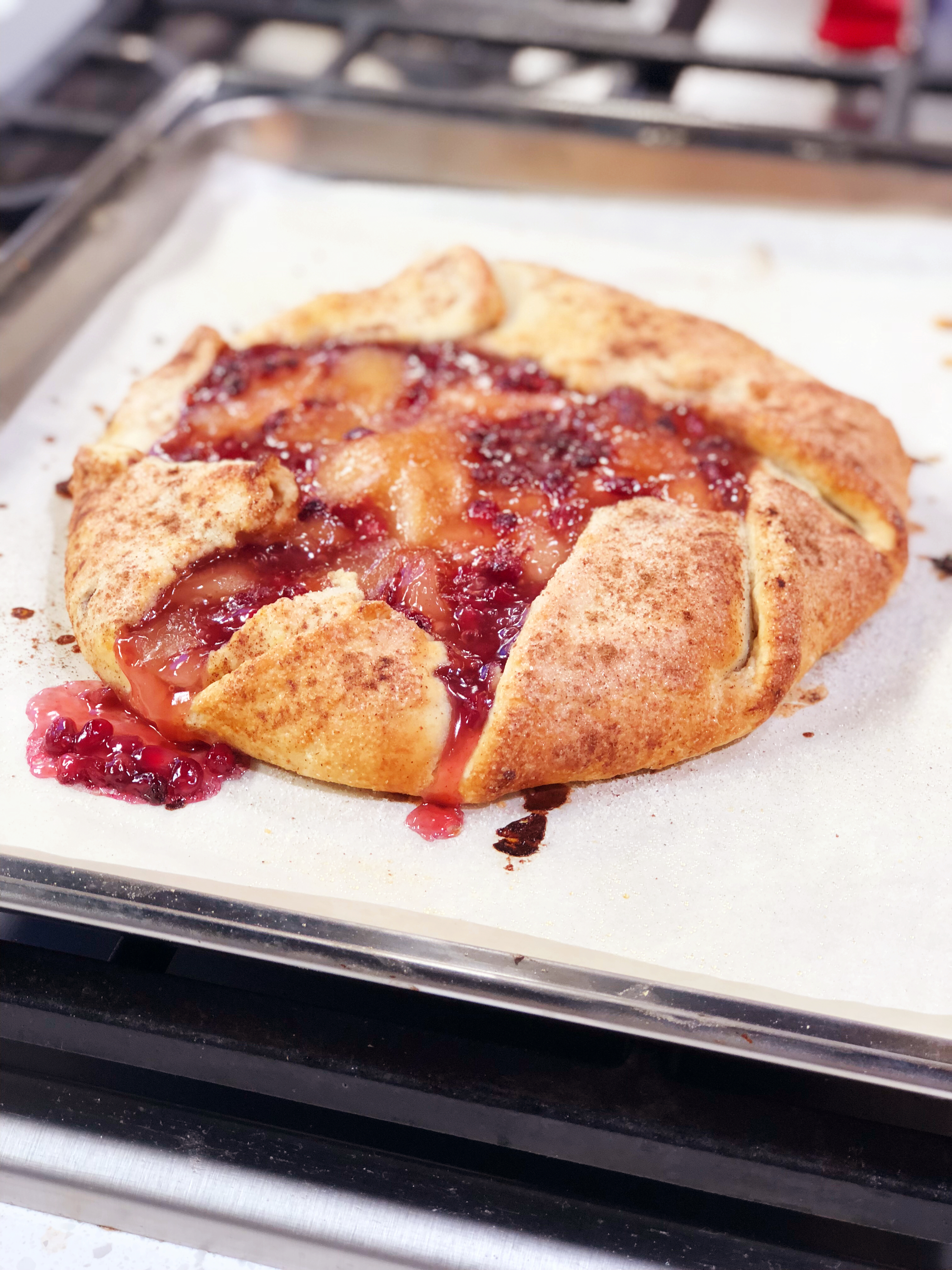 Ingredients
For the Pie Crust: 1 cup shortening
3 cups flour
1 tsp salt
1 cup ice cold water
For the Pie Filling: 1 can prepared apple pie filling
1 cup pomegranate seeds
1 egg
2 tsp pumpkin pie spice
1 tbsp sugar
Instructions
1
Preheat your oven to 350 degree's.
2
To make the pie crust, add the shortening, flour and salt to the bowl of your food processor. Pulse together until it resembles coarse "meal".
3
Add the one cup of ice cold water to the food processor and pulse just until the the mass begins to come together. It won't form a ball but will be a crumbly dough mass.
4
Dump the dough out onto a clean work surface and gently work the dough into a mass. Cut the dough in half and reserve the second half for another pie.
5
To make the pie, flour your work surface and roll the dough into a round about 1/4 inch thick. Dust with flour as needed and make sure it doesn't stick to the countertop as you are rolling it out.
6
Fold the dough in half and transfer to a parchment lined baking sheet. Unfold the pie crust allowing it to lay flat on the baking sheet.
7
In a large bowl add the prepared apple pie filling and pomegranate seeds, mix together.
8
Transfer the filling to the center of the pie crust and fold the edges of the crust up and around the filling.
9
Crack the egg into a bowl and whisk. Use your pastry brush to brush the crust with egg. Sprinkle with the pumpkin pie spice and sugar.
10
Bake in your preheated oven for about 45 minutes or until the the crust is golden and filling is boiling.
11
Remove from the oven, cool and serve with a scoop of vanilla bean ice cream. Enjoy!
chefbryan