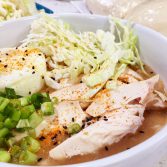 Udon Noodle Soup with Chicken, Cabbage and Scallions
Simple noodle soups are an easy idea for dinner. Not only can you use various leftover items in the fridge to help fortify the soups, you can also use a variety of noodles. In Japan, they use various types of noodles to make their delicious bowls of soups like ramen and udon.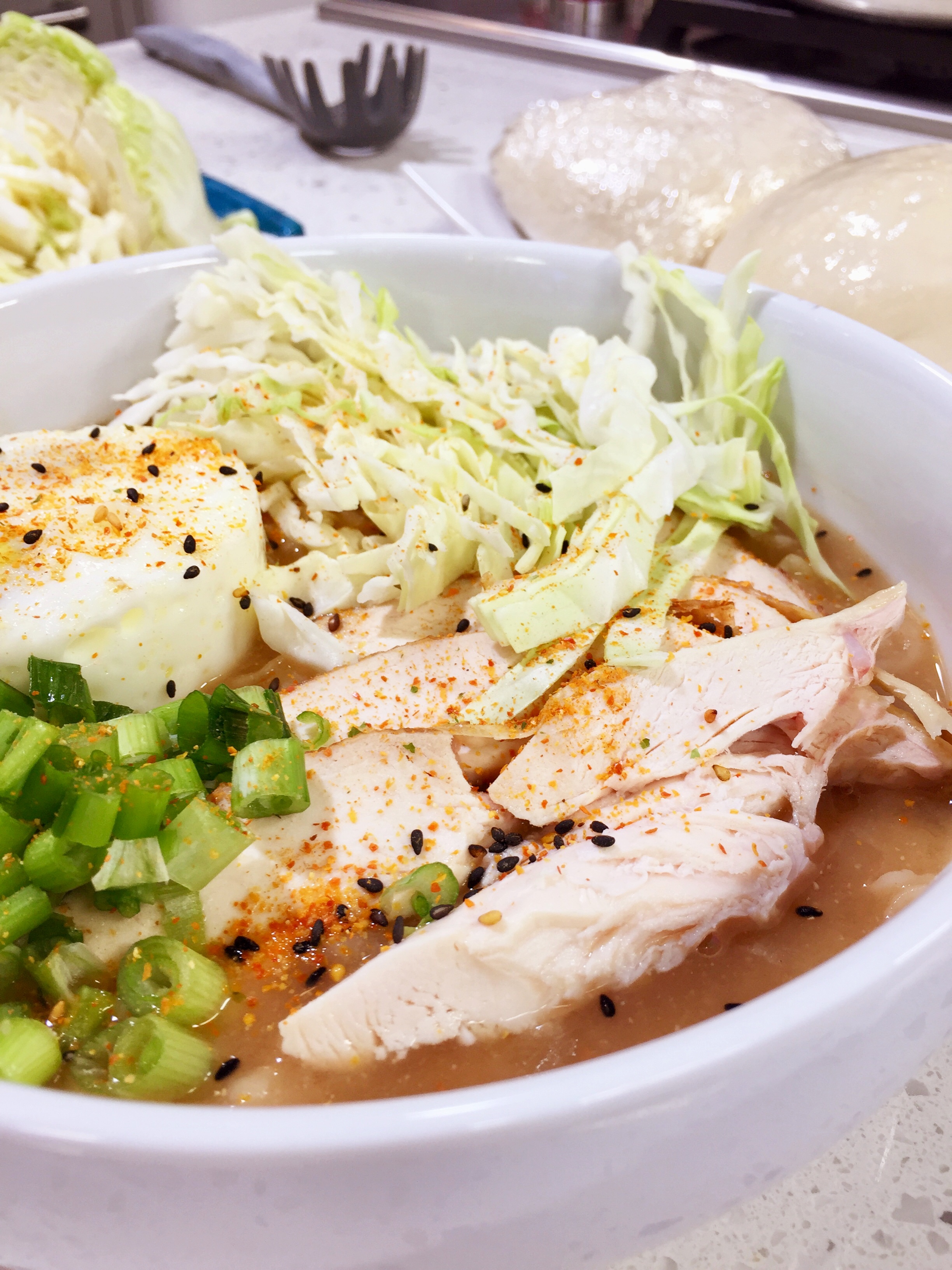 Ingredients
Udon Noodles:
2 1/2 cups flour
1/2 cup tapioca starch
1 tsp salt
1 cup water
Soup Base:
4 cups water
1/2 cup miso soup base
2 tbsp bonito soup stock base
1 tsp red pepper flakes
1 tbsp minced ginger
1/4 cup soy sauce
2 tbsp mirin
Toppings:
Sliced, cooked chicken breast
Shredded Cabbage
Chopped Scallions
Instructions
1
To make the noodles, combine the flour, tapioca starch, salt and water in the bowl of a mixer. Using the paddle attachment mix the dough until smooth (about 5 minutes). Since your using the paddle attachment for the noodles, be sure to watch the machine, whereas, it will bump around a lot.
2
Once the noodle dough is ready, remove from the machine and divide in two. Roll the dough out on a floured work surface in a rectangle about 1/4 inch thick. Dust the dough well and fold into thirds lengthwise.
3
Slice the noodles about 1/8 inch thick or as thick (wide) as you would like.
4
Toss the noodles with flour to prevent them from sticking and set them aside until ready to use.
5
To make the soup base, add the water, miso soup base, bonito soup stock, red pepper flakes, minced ginger, soy sauce and mirin to a large pot. Bring to a boil, reduce heat to a simmer and add the prepared noodles. Cook the noodles for about 4-5 minutes or until cooked through.
6
Ladle the stock and noodles into a bowl. Finish off with sliced cooked chicken breast, shredded cabbage, and chopped scallions. Serve and enjoy!
chefbryan