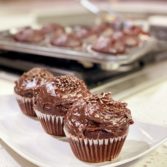 Brazilian Brigadeira Cupcakes
While in Brazil, this cake was a favorite of everyone I knew. I decided to create cupcakes and turn them into a mouthwatering version of a brigadeira cake.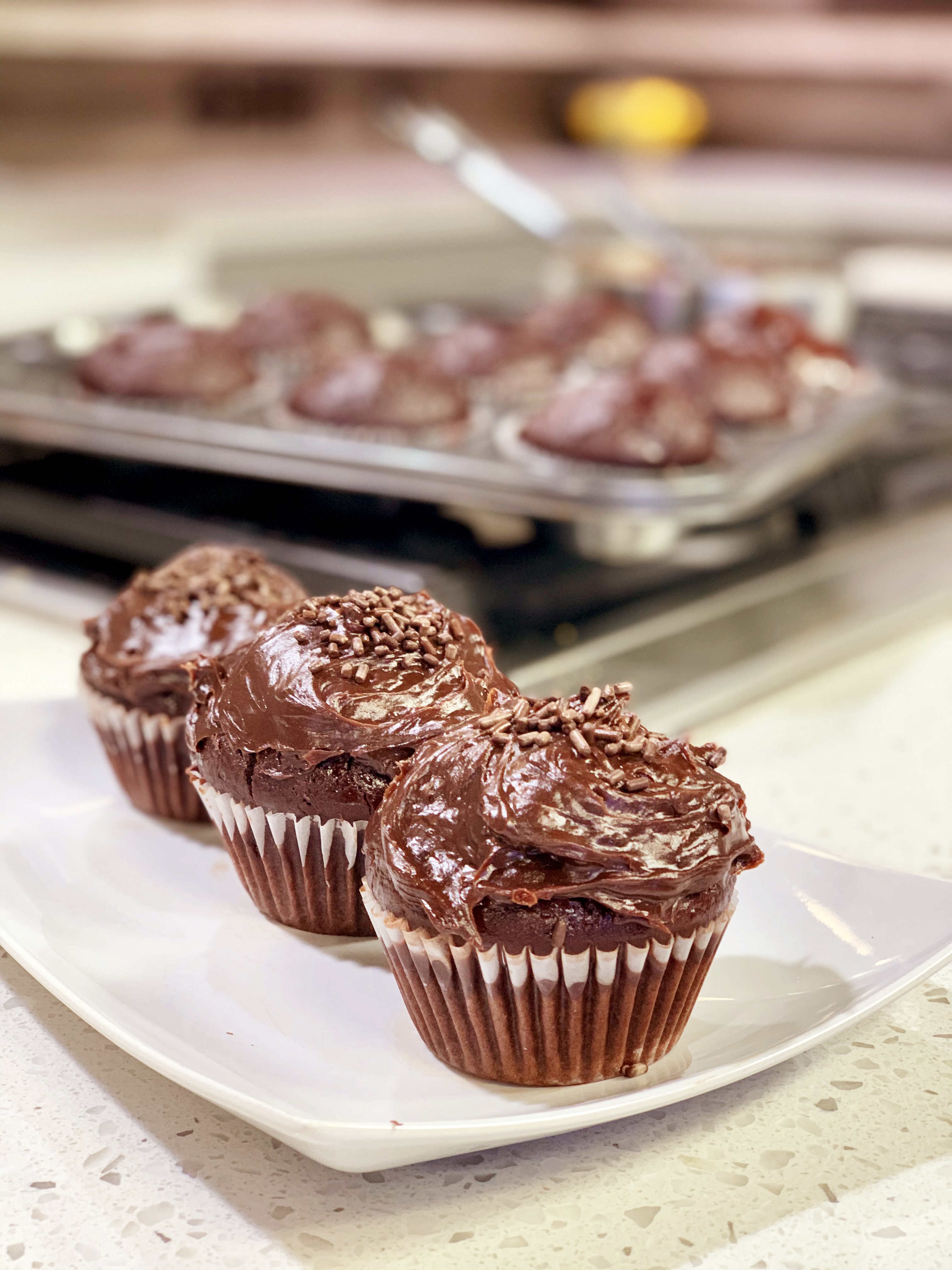 Ingredients
For the Cake: 2 eggs
1/2 cup vegetable oil
3/4 cup sugar
1 3/4 cup milk
2 1/2 cups flour
1 cup cocoa powder
1 tbsp baking soda
1 tsp salt
For the Chocolate Glaze: 3/4 cup sugar
1/4 cup cocoa powder
2 cups milk
For the Brigadeiro Frosting: 1 can sweet and condensed milk
1 cup milk
1 tbsp cornstarch
1/4 cup cocoa powder
2 tbsp butter
Instructions
1
Preheat your oven to 350 degrees.
2
To make the cake, in a large bowl, whisk the eggs, vegetable oil and sugar together to combine. Add the milk and mix everything together followed by the flour, cocoa powder, baking soda and salt. Mix until the a smooth batter is formed.
3
Line your muffin tins with cupcake liners (I made 16 cupcakes with this recipe) and fill them 3/4 of the way full.
4
Place the cupcakes in your oven and bake for approximately 15 minutes or until a toothpick comes out clean.
5
To make the Chocolate Glaze, add the sugar, cocoa powder and milk to a sauce pan. While stirring, bring to a boil and remove from the stove. Set aside until ready to use.
6
To make the brigadeira frosting, to a saucepan add the sweet and condensed milk, milk, cornstarch, cocoa powder and butter to a sauce pan. While stirring, bring the mixture to a boil and rapidly stirring, continue to boil for 1 minutes. Remove from the heat and set aside to cool. If the mixture doesn't resemble a very thick pudding, continue cooking it while stirring until the mixture has thickened. Remember it will thicken more as it cools.
7
To finish your cupcakes, liberally brush them with the chocolate glaze and frost with the brigadeira frosting. I like to sprinkle them with chocolate sprinkles to finish them up. Serve and enjoy!
chefbryan