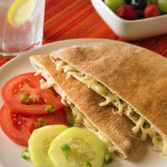 Baked Pita with Cheese, Tomatoes and Cucumbers
I like broiled cheese sandwiches and remember them fondly growing up. My dad was the best cheese broiler around! This recipe from The American Heart Association incorporates the wonderful childhood memories with a delicious twist.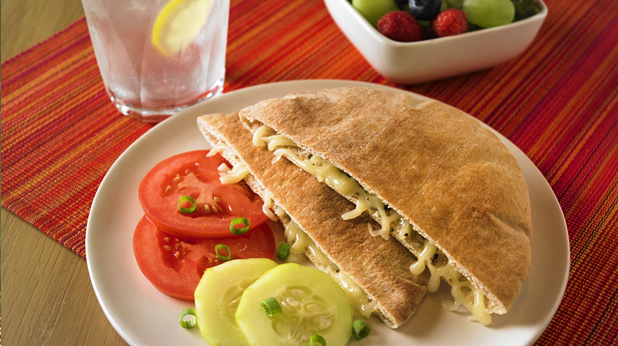 Ingredients
4 6-inch whole wheat round pita's, cut in half
4 oz fat-free shredded mozzarella cheese
1 clove garlic, minced
1/2 tsp dried basil
2 medium tomatoes, sliced
1 large cucumber, peeled and sliced
1 green onion, chopped
Instructions
1
Preheat oven to 350 degree's.
2
Cut the pita breads in half and set aside.
3
Shred the cheese and mix well with the minced garlic.
4
Sprinkle the dried basil over the shredded cheese.
5
Divide cheese evenly between the 8 pita halves.
6
Place pita breads with the cheese on a flat pan, cookie sheet or aluminum foil and put into the oven for about 5 minutes or until the cheese has melted.
7
Remove from the heat carefully and transfer to plates. Serve with sliced tomatoes, cucumbers and green onions.
chefbryan